Dogma Movie Poster
Controversy was the focal point surrounding Kevin Smith's smart, hilarious ode to religion in the 1999 release of "Dogma." Armed with an impressive ensemble cast, including Linda Fiorentino, Ben Affleck, Matt Damon, Jason Lee, Alan Rickman, and Chris Rock, "Dogma" had the perfect combination of a strong script and solid acting performances.
With its sarcastic catch phrase, "Get 'touched' by an angel," the "Dogma" movie poster seems like its going for the jugular of religious groups; however, Kevin Smith was trying to show his appreciation of the Catholic Church and wound up unintentionally offending many of the believers in Jesus Christ.
Linda Fiorentino was a great choice to portray the film's protagonist, Bethany, an abortion-clinic employee who is assigned by Metatron (Rickman) to help lead a God-fearing mission, which includes unlikely prophets in the form of Jay (Jason Mewes) and Silent Bob (Kevin Smith). Bethany's difficult task is to try to stop malicious fallen angels, Bartleby (Affleck) and Loki (Damon), who plan to overturn their exile by entering a portal inside a New Jersey church as a means to return to their former glory in Heaven. Unfortunately, if they are able to succeed, life as we know it would end.
More Dogma Posters for Sale at Movie Poster Shop

| | |
| --- | --- |
| | |
In true Kevin Smith fashion, a number of memorable supporting performances add to the humor and complexity of the movie. Chris Rock's role as the alleged 13th apostle Rufus is hysterical, and Rock's character claims that Jesus still owes him $12.00. Alan Rickman is once again at the top of his game as Bethany's mentor of sorts, Metatron, whose pissed-off demeanor makes his performance that much better. In addition to Rickman and Rock, "Dogma" contained top-notch roles from the likes of George Carlin, Salma Hayek, Jason Lee, and Alanis Morissette.
30 x 40 UK Dogma Movie Poster for Sale at Movie Poster Shop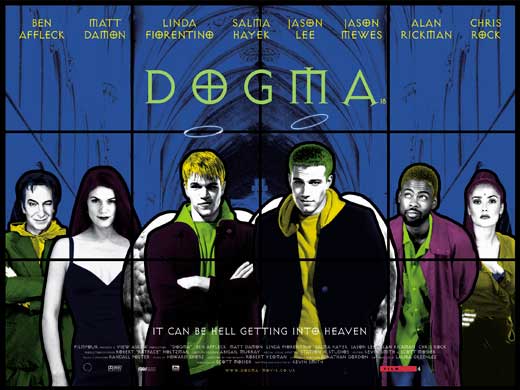 After all the protests in light of its release, "Dogma" still managed to draw well in theaters. Years later, I still think "Dogma" holds up rather well compared to some of Kevin Smith's earlier films and could very well be his crowning achievement.
Recommended Reading